"Quality Polymer Performance at Conventional Asphalt Prices"
Rock Binders has developed a pellet form of additive for paving mix, Sulfur Extended Asphalt Modifier (SEAM). Solid at ambient temperature but meltable in your hot plant, SEAM combines sulfur and plasticizers to provide 10% to 35% cost savings over other Polymer Modified Asphalt. SEAM dramatically improves the performance of conventional AC oil, making it tougher, stronger, and more rut-resistant than any other additive in use today.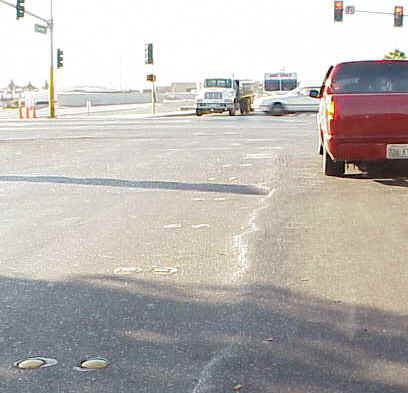 SEAM can stop this kind of intersection rutting.
SEAM pellets are manufactured and delivered to the hot plant in 3/8" minus particle form. They can be stored on the ground or in silos for use in a feeder/delivery system. SEAM pellets have a melting point of 200° - 220° F for ease in blending with your regular asphalt cement.
A typical hot mix application would introduce SEAM in the drum RAP collar and/or bag house intro point, or into an after-mixer unit. In a batch plant operation, SEAM would be added at the pug mill. Read more information on hot plant requirements.
A ratio of 1.5 to 1 by weight of SEAM pellets to AC oil is optimal as a substitute for 30 - 50% of the AC oil. In other words, up to half the asphalt can be extended to do twice the "binding" work!
SEAM has unlimited shelf life because of its solid nature and will not leach into the environment. No need for storage heat or special transport. SEAM pellets can be shipped conventionally by rail, truck, ship or air to anywhere in the world.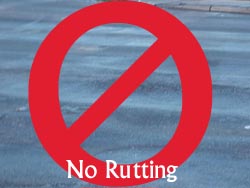 Long before Rock Binders developed a means of producing SEAM in solid form, pavements using sulfur-extended asphalt formulations had been successfully used in Canada and the U.S., by the F.H.W.A., many state DOT's and the U.S. Department of Interior. The results have been outstanding: strength in hot temperatures, flexibility in cold temperatures.**
SEAM even reduces the need for stability testing during the mix design process, because this binder often produces a paving mix with stabilities higher than can be measured with today's conventional testing equipment! In addition, the stabilities continue to increase over time without losing hot or cold temperature properties.
| | |
| --- | --- |
| | |
| | SEAM Pellets are now a reality and available for delivery by bulk container, truck or rail. This performance asphalt modifier will save you $$$$$$$$$$$$$$$$. |
Rock Binders' Sulfur Extended Asphalt Modifier pellets:
Stockpile up to 40' high with no environmental leaching,
Provide environmental stability; store in solid form with no storage emissions or spills,
Require lower hot mix temperatures (below 300° F), saving fuel and heating dollars,
Offer other cost advantages: transportation, logistical, and liability reduction,
Provide layer equivalency 10 - 15% higher than neat asphalt,
Protect pavement from UV degradation,
Yield superior performance in all climates; tough and rut-resistant in hot weather, flexible in cold weather.
**(Western Research Institute, Phase II - Final Report of August 1997 FHWA Contract DTFH61-92-C-00170 & FHWA-RD-90-110).