HEAVY DUTY ASPHALT PAVEMENTS AT REASONABLE PRICES
YOU HAVE CONTROL AT YOUR HOT PLANT WHEN YOU WANT TO MAKE HEAVY DUTY MIX
FOR A CONTAINER YARD, TRUCK ROUTE, BUS LANE OR PARKING LOT
Rock Binders, Inc. produces two different pelletized products that incorporate the best of polymer binders high performance properties in an economical and environmentally friendly form.

Our Sulphur Extended Asphalt Modifier (SEAM)™ pellets extend and supplement your asphalt binder with plasticized Sulfur and polymers. Now you can stretch your asphalt oil by modifying and replacing from 30 to 50% of your conventional asphalt cement. SEAM™ will invigorate and strengthen your asphalt pavement, while it stops rutting and cracking.
SEAM is value added modifier to your hot mix, economical and safe to use.
SEAM mixes are stronger, have a higher stability, are very rutting resistant, provide 10% - 35% cost savings over PMAs and provide plant fuel savings up to 10%.
SEAM requires mix temperature control essential to maintain discharge temps below 285° +/- 10° F (140° +/- 5°C) and a good mix temperature measurement system is required at the plant which saves $$$ on fuel and emissions.
SEAM mixes can be processed at a 30° to 40° F (10°to 15° C) lower temperature but immediate compaction is essential while the mix is hot, as should also be done with conventional asphalt mixes.
Asphalt Replacement Pellets (ARP™), the 100% replacement for conventional hot asphalt oil. ARP™ is over twice as strong as regular asphalt binder, with substantial savings on freight, heating costs and a liability reduction.
When Rock Binders infuses a high quality asphalt oil into SEAM™ and adds polymeric additives, we make Asphalt Replacement Pellets (ARP™). You have less logistical problems, shipping issues, or fumes from storage. In essence you have a hot concrete that will withstand high air voids and still out perform regular asphalt. It must be engineered as a semi-rigid pavement with depth minimums.*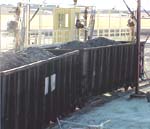 Pellets are solid at 175° F
and liquid at 220° F
Using Rock Binder Pellets will change the way you look at transportation logistics, environmental issues, binder modification, and the economics of your paving projects.
On this site you will find both technical information and general discussion about how these helpful products will improve the way we pave the world. Click on appropriate text or give us a call at (360) 566-1409 USA.
* Data available on request from third party testing at Universities and Governmental Agencies.
"Polymer Performance at Conventional Asphalt Prices"
Rock Binders Inc. is committed to 100 percent accuracy. Factual corrections are welcome at corrections@rockbinders.com